Oil and fluid changes are essential to maintaining the life of your car as well as the quality of your time on the road. That's why your local Signature Tire is here to help. Bring your vehicle in today and make sure your oil and fluids are fresh before you head out on the open road.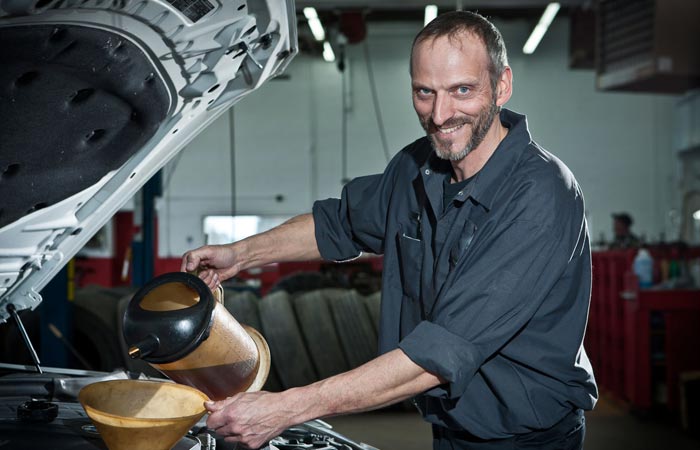 Why Choose Regular Oil Changes?
Regular oil and fluid changes offer a lot of benefits to your vehicle, some of which you may not be aware of. Some of the positives associated with regular oil and fluid changes include:
Reduced friction and increased lubrication in the engine, which helps to prevent overheating.
Ensures cylinders are operating at full capacity, which improves engine and horsepower performance.
Improves fuel efficiency and engine processing by removing built up impurities in and around the engine. These can include dust, metallic shavings and antifreeze.
In addition, regular oil and fluid changes can work to prevent the occurrence of serious issues in and around the engine, such as engine part failure, grinding, the fusion of parts, and jamming. Issues such as these can not only decrease the lifespan of your vehicle, they can make it unsafe to drive. Making sure that you include oil and fluid changes as part of your regular car maintenance routine is always the right decision.
Synthetic Oil or Conventional Oil?
The short answer to this question is that synthetic oil is a much better option overall. It boasts increased longevity and is better able to handle high temperatures without breaking down.
In addition, modern synthetic oil is cleaner than conventional oil and is specifically manufactured to produce less less engine resistance alongside more horsepower. Basically what this means is that your engine will perform at the same high level you expect while using less gas.
That said, synthetic oil can be slightly more expensive than conventional oil. If you are on a very tight budget, conventional oil can be an option, however, the higher price of synthetic can easily be validated when you factor in the fact that it can take you up to 10,000 km and help you use less oil overall.
Fast Facts
Traffic patterns can play a role in how often you need to have your oil topped up. If you spend a lot of time in "stop and go" traffic or take short 5 – 10 minute trips daily, you should speak to an expert at Signature Tire to see if you'll need more care than the recommended manufacturer specifications.
Your oil's viscosity should be calculated based on the season; your car's summer oil should be thicker than its winter oil.
Your car also includes oil filters, which will help to remove particles, as well as sludge. Just as you would with oil, it's important to change these at regular intervals as well.